---
At home on Vashon Island
---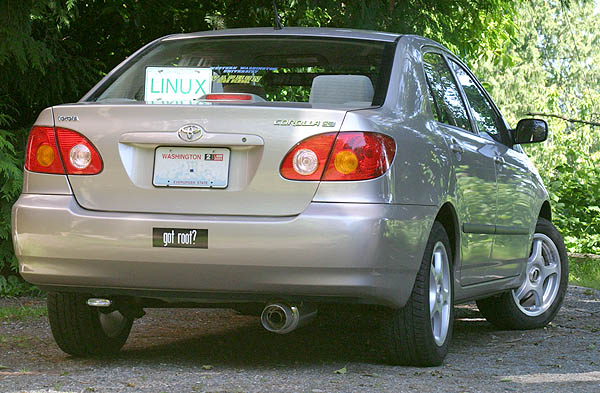 I've lived on Vashon Island for over twenty-seven years now.
Vashon Island is a great place - a real community in the sense of the word that is often not found in America anymore - particularily for a location so close to a major urban area.
Being a small community means that you will always see several people you know whenever you go anyplace. But there is still a certain etiquette to the close quarters here: for example, on the ferry, if you go upstairs you are pretty much fair game, and available for conversation. However, if you stay down in your car, no one is likely to bother you.
Vashon can be pretty small for kids growing up here. My daughter graduated from Vashon High School three years ago, and she went thorough the entire Vashon school system with kids she knew since daycare, when she was eighteen months old!
It's kinda hard for newcomers to work into the scene, and kinda hard to get unpegged once everybody thinks they've got you figured out. But most kids go through school with a very wide group of friends and acquaintances that gives them a solid foundation of positive, close relationships.
---
NO BRIDGES!
But, it is an island, and a lot of adults can't cope with that, mainly thanks to the Washington State Ferry system!
The ferries don't run late at night, and they're really busy on the weekends, and weeknights, and all during the summer, so you just can't go where you want to, whenever you want.
Type A's can't cope! And a fine thing, too...
The make-break point seems to be about 18-20 months. Island lore says that if you last that long, you'll probably stay for a very long time...
---
---
| | |
| --- | --- |
| Back up in the woods behind our house, in the spring. This is the drainage for the Whispering Firs bog... | |
| | |
| --- | --- |
| | Sometimes, the fog fills up Puget Sound just enough to make it feel like I live on the edge of the Earth, and not just on the edge of the Island... |
| | |
| --- | --- |
| At other times, the fog is sharply defined and distant. | |
| | |
| --- | --- |
| | And then, because we've got lots of rain here, we've got rainbows |
| | |
| --- | --- |
| But of course, Puget Sound isn't always so pretty - say, when it's 36 degrees and raining so hard the visibility is down to a couple miles... | |
---
---
---
All my digital photography
copyright John D Sage/FinchHaven
1999, 2000, 2001, 2002, 2003, 2004...

---

Any and all e-mail addresses associated with this domain in any way
are located in the State of Washington,
and as such may not, by law, be harvested for spam.

---

This page preened using GNU Emacs 21.2.1
at www.FinchHaven.com by Webmaster
Last modified: Fri 23 Dec 2016 11:13:32 AM PST

counter
---